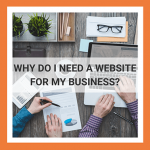 Why do I need a website for my business?
You might think you don't need a website. You might be a long-established business that has never had a website before. Or you might just feel that tech isn't for you, and you don't see what part it plays in what you offer.
But let me tell you that you do need one. The right website will always help your business. To make sure it does, it's important to identify what you need from your website, and find the right web designer to bring it to life.
Websites can achieve three things for your business:
Your website will have all your contact details, working hours and services or products listed on it. Anyone who wants to find out how to get in touch with you or buy into your services can easily find the information they need via the website. Even if your marketing centres on word of mouth, your existing clients will be using social media and smart phones to recommend your business to others. Make it easier by providing a website URL that they can easily share.
If a potential client wants to find out more about you before they convert, they will want to see that you have a website, and a good one at that. When they can find your business online, read your story and check out your reviews, they know that you are a credible business and you do what you say you do.
SEO stands for search engine optimisation, in other words, helping Google to show your website in people's searches. If you don't have a website, you miss out on getting business through people Googling for whatever it is you offer. Online shopping makes up about 20% of all purchases, and when you remember that most consumers will check out products online before going to the high street to buy them, you'll see why a website is essential in the internet age.
If you build (or let me build!) a website that meets the needs of your business, it will be a sound investment and that can help your business grow. Here are some ideas:
A static brochure website that contains basic information
An e-commerce website that allows customers to buy online, increasing your sales and saving you rent on a shop.
A website with a booking system so customers can order tickets or make reservations online, freeing you up from answering the phone and replying to emails.
Of course, those are just starting points. It's OK to not know exactly what you want – together we can discuss your needs. Then I can help you choose the right website for your business and create your online presence. Please contact me, Julia Britten, on 07802 716 999 to get started.
Introducing Content Launch – instant content marketing for start-ups There's so much to do when you're setting up your business. Securing funding, establishing your brand, building a website – all are important, all are time-consuming. A key priority should be…
Read More