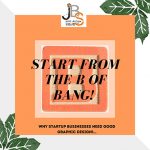 Start from the B of bang – why startup businesses need good graphic design
Starting a new company can be a busy time, and it may be tempting to shelve everything that isn't your core business until you're up and running.  However, creating a strong brand is what's going to bring in the business, so it should be high on your list of essentials.
You know you're good at what you do, and you have to let your customers know that from the very start. A professionally designed logo and brand will give you credibility, and give potential clients faith in your business. If you're a virtual assistant at a business expo, for example, branded banners, business cards and price lists will give clients confidence in your skills and expertise. If you have an online shop, good design will make it look like the website of an established high street store – no one will ever guess how many cardboard boxes you've got in your dining room!
Come and see me! I'll talk to you about your new business, learning about your USP and what makes you tick. I'll also look at what the competition are doing – yes, you want to stand out from the crowd, but you want to stand out for the right reasons. I can help you decide where you want to run with the pack and where you want to do something different.
Depending on your business, you'll probably need other materials to promote your products and services. If you go into clients' offices as a contractor, corporate clothing and ID is always useful – you don't want to be marched off the premises on your first day! Clear price lists and other basic information will save you a lot of time, while branded labels will be essential if you have products to sell.
With your logo and branded material all ready to go, your business will look fresh and professional from the outset. Your stylish brand will give your clients the confidence to book your services as soon as you can supply them.
While I'm sure your start-up business plan is as robust as you can make it, it's impossible to know what the future holds. Fortunately, it's easy to tweak an existing logo to reflect a change – there's no need to completely rebrand. With a strong design for the original brand, you don't need to worry that your loyal clients won't recognise you – you can keep the original colours and font, and simply update the logo.
If you're starting a business, remember to include branding in your budget – it's one of the most important investments you'll make. To find out more, give me a call on 01372 224013.
Introducing Content Launch – instant content marketing for start-ups There's so much to do when you're setting up your business. Securing funding, establishing your brand, building a website – all are important, all are time-consuming. A key priority should be…
Read More