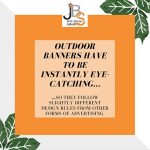 Dos and don'ts for outdoor banner design
As we head to into spring, more and more businesses will be seizing the opportunity to advertise with outdoor banners. This is even more important now, to let your customers know you've re-opened (once we're allowed to, of course). Large vinyl banners can be very effective marketing tools – they're great for events and festivals, and play an important part in both advertising and decorating the venue.
Outdoor banners have to be instantly eye-catching, so they follow slightly different design rules from other forms of advertising. Here are our dos and don'ts:
Do think about where the banner will be displayed and choose the colours accordingly. If it's going to be hung against a hedge, for example, a green banner will probably be camouflaged. Similarly, don't choose blue or white for a banner that will be hung high across a street – it won't stand out against the sky. Instead, choose colours that will contrast with whatever background you're planning to hang your banner against to be sure it stands out.
Don't forget about good design. Just because the banner has to have a simple design, there's no reason for it to look rubbish! Many banners are hung at the entrance to events and venues, meaning that they're the very first thing a visitor sees. Whoever said "you don't get a second chance to make a first impression" was quite right – don't let bad design let you down.
Do consider how it will be set up. Most vinyl banners have eyelets in the corners so they can be attached to buildings, so it's important to remember to leave room for them. The last thing your banner needs is an unreadable phone number!
Don't chunter on. Less is more. People will be walking or driving past your banner and won't necessarily be stopping to read it. They'll have to absorb the information in an instant – all you need is a great image and a strong, clear slogan.
Do include a call to action. This will probably be a website, phone number or Twitter hashtag, but it's enough to connect people with the rest of the information they need.
If you need a banner to advertise an event, or simply to display on the front of your building, I'd love to hear from you! I can design banners from scratch, or alter existing designs to make them suitable for outdoor display. To find out more, get in touch with me, Julia Britten, on 07802 716999.
Introducing Content Launch – instant content marketing for start-ups There's so much to do when you're setting up your business. Securing funding, establishing your brand, building a website – all are important, all are time-consuming. A key priority should be…
Read More