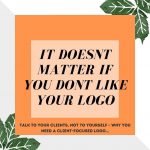 Talk to your clients, not to yourself – why you need a client-focused logo
All businesses need a logo. It makes you look like the professional operation you are, whether you work in the City or from a home office. It also steers the rest of your branding, providing colours, style and font. But it's very important to remember to aim your logo at your clients. It doesn't matter if you don't like your logo, as long as your clients do.
Your logo has work to do!
Your logo is going to work hard for you. This means it has to communicate on your behalf, and tell people about your business in a way that they understand.
You can't be everywhere at once, but your logo can, so it has to communicate your brand effectively. While you're briefing staff, poring over a spreadsheet or out for a run, your logo is out there, representing your business. Remember those business cards you gave out at that expo? Those cards are carrying your brand far and wide. People searching online for your kind of business will meet your logo before they meet you. Maybe you're putting the world to rights in an evening Twitter chat, but your logo will have to carry the professional side of your business until the office reopens.
What do your clients need to know?
Of course, you already understand your business and what it does – in fact, you could probably go into more detail than a client would ever need (!). However, the knowledge you have and the information your clients need are two different things. That's why your logo needs to speak to your clients.
Some business owners – particularly sole traders – feel that their logo has to reflect them. This is true, but the word "reflect" is the key. Your logo doesn't need to "be" you; it needs to reflect you. Any good graphic designer will be able to communicate the right side of you through a well-considered logo.
You don't have to like your logo!
Some elements that business owners would like to incorporate into their logo are better left out. Perhaps your favourite colours are red and green – fine if you're a freelance Santa but a bit unexpected if you're an accountant. If you named your business after your beloved pet, there's no reason why your pet has to be part of your logo (unless you're a professional pet sitter).
If you think you've fallen into any of these traps with your logo, or if you just think it needs freshening up, give me a shout. Together, we can improve it and communicate a clearer message to your clients.
Introducing Content Launch – instant content marketing for start-ups There's so much to do when you're setting up your business. Securing funding, establishing your brand, building a website – all are important, all are time-consuming. A key priority should be…
Read More