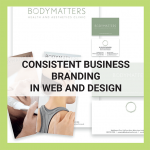 Consistent business branding in web and print design
Your business deserves a website that's as good as what you sell. To make your website effective, it's important to keep it on-brand and consistent with your other marketing.
In this blog, I look at why consistent branding is important, and how your website can reinforce your brand.
Why should your branding be consistent?
Good branding will reflect the nuance of what you offer, but it needs to be consistent to convey your message across all your communications. Good, consistent branding will ensure you connect with the right audience – reaching out to those people who are most likely to become your paying customers.
When your website bears out your brand, it helps you build trust with your clients. If they have already had a positive experience with you, the next piece of your branding they see will reinforce that and make them more likely to use your services in future. Even if customers don't see your business name, your colours and font will strike a chord with them, and they'll know they're on the right website and reading the right information.
How does JBS Print ensure consistent branding on websites?
When I create a new brand, or rebrand an existing business, I provide a full branding identity guide. This outlines your colour palette, fonts and logo variations so that all your graphics have a consistent look. I also work with copywriters to create tone of voice guidelines so that all your wording is on-brand.
With the branding identity guide as a starting point, I design effective websites that align with your ethos, brought to life with your logo, images and key business messages.
On-brand websites for local businesses
Many of the businesses I design for deal with their customers face to face, but it's still important to have a website that's consistent with your brand. Remember how people use websites – even if they deal with your regularly, they might use your website to check working hours or see if you offer a particular service. They might even share the link as a recommendation on social media.
Every contact your customers have with you is an opportunity to reinforce your brand, and your website is no exception. From the logo in the top corner to the colours, font and language, every element of your website should be letting the customer know it's your business, operating at its impressive best.
Branding and websites with JBS Print
If your business is due for a rebrand, I'd love to help. I can help you update your existing branding, or start from scratch with a new logo and website. Wherever you are on your business journey, I'd love to help you reach more customers and clients through great design. Give me, Julia Britten, a call on 07802 716 999 to get started.
Introducing Content Launch – instant content marketing for start-ups There's so much to do when you're setting up your business. Securing funding, establishing your brand, building a website – all are important, all are time-consuming. A key priority should be…
Read More